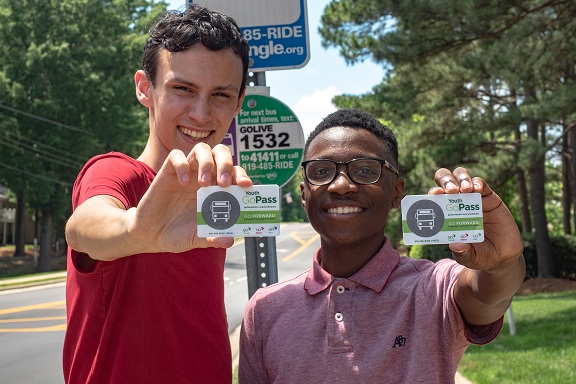 Research Triangle Park, NC (July 24, 2018) – Aug. 6 is independence day for Triangle teens and their parents or guardians. That's when those ages 13 to 18 can start using a free Youth GoPass to explore a three-county world of malls, museums, jobs and schools – with a bus operator doing the driving.
Rides on all GoRaleigh, GoCary, GoDurham and GoTriangle routes will be free to teens with a Youth GoPass, available at several locations including Wake and Durham public libraries, Raleigh Parks and Recreation community centers and transit agency ticket counters. Children 12 and under accompanied by an adult now can ride free on any bus with no pass. Chapel Hill Transit buses already are free for all riders.
"The regional Youth GoPass Program is exciting for our community on so many levels," says Jennifer Robinson, a Cary Town Council member and chair of GoTriangle's Board of Trustees. "By making transit more accessible to our younger residents all over the Triangle, we open up so many more opportunities for them to get to schools, jobs and places to meet friends. Over the long term, we also cultivate a generation of life-long transit users who are comfortable riding transit and who understand how a strong network improves the entire community. We want to thank the City of Raleigh, Wake County and other partners for getting this initiative started."
Information about how to get a Youth GoPass, including a list of distribution sites, is available at YouthGoPass.com. To get a pass, teens or their guardians will need to fill out a registration form and provide proof of age: birth certificate, valid school ID with school year, driver's license, transit ID card or another government-issued ID with date of birth. 
The pass will be ready to use immediately. To discover all of the places it can take you, use the trip planning tool at YouthGoPass.com. Find a video on how to ride the bus here.
Autumn Cobeland, a Raleigh artist, is looking forward to getting the Youth GoPass for her two teen daughters, who already take public transit to their classes at Moore Square Middle School.
"I'm all for the new Youth GoPass," she says. "It'll nurture that concept of kids recognizing how much freedom they have, especially before they are driving. We in the older generation associate freedom with driving ability, but the GoPass is about the freedom to get to places without associating that with driving. I'm all for it. And who doesn't like free stuff?"
The free pass already has been a huge help to Hannah Anderson, one of a group of pilot program participants who have been trying out the Youth GoPass this summer. The 18-year-old Cary High School graduate has been using the pass to get to job interviews before she starts classes at Wake Tech this fall.
Like an increasing number of teenagers across the country, Anderson doesn't have a driver's license. In the South, the share of high school seniors with a driver's license fell from 88.6 percent in 1996 to 71.2 percent in 2015, the Pew Charitable Trust reports.
"Having the pass has been really helpful in my job search, and I really enjoy it," Anderson says. "Before, I didn't go out much. Having this opportunity, it makes me want to use it and go out and get out of the house. I like having that option. It gives me a sense of real freedom."
Cobeland says her babysitter, a high school senior, has been hesitant to get a driver's license and often uses a public bus.
"It's fun for her to text to her heart's delight when she's on the bus and getting where she wants to go," Cobeland says. "We underestimate the shifts in our culture as they are happening. We are so addicted to gadgets. If teens can hop on a bus and not worry about driving, they'll do it."
The Youth GoPass Program is just one improvement in the transit plans passed by various local bodies for fiscal year 2019, which started July 1. Voters in Wake, Durham and Orange counties all have approved transit-designated half-cent sales taxes, and the counties are going forward together to create a unified regional transit system.